The Outreach Ministry does just what its name implies–reaches out. We leave the walls of the church and become the hands and feet of Jesus by going into the community to reach the lost and provide assistance for those in need. If your passion is in serving others and sharing the love of Christ, we'd love to have you on our outreach team.
CCI is Blessing Forward! Pastor Ricky and CCI are committed to blessing others, in hopes that others will continue to pass the blessing forward to someone else.
We have supported organizations such as Cleveland County Schools, Power in the Word Ministry, and more.
If you would like to support our Outreach Ministry you may do so by going to our Donate Online page or send a check to the church.  Your love gift will reach others in the community that are in need.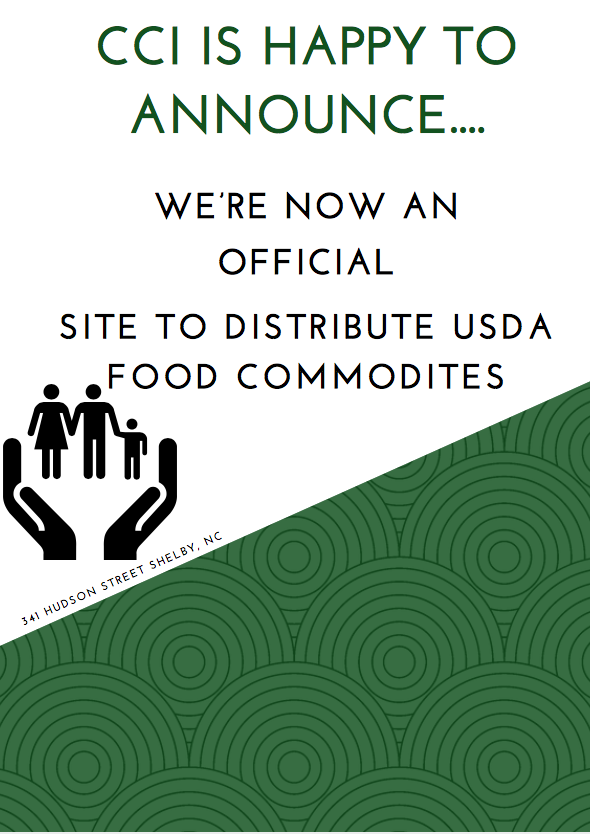 FOOD COMMODITIES
We are happy to announce that CCI is an official site to distribute USDA Food Commodities. We are taking applications for eligible Cleveland County applicants (applicants that receive food stamps, SSI, temporary assistance for needy families, or who meet income eligibility guidelines).   Applications are now being accepted and processed.  Please feel free to contact Debra Lee at (704) 473-1941
*Click here to gain access to the printable application.